Welcome to Fiber Arts Friday! Today I am going to be in Chicago for Stitches Midwest. It's the first time I've ever been to Stitches so I'm excited to see what many of you have raved about. It's also less than a week before the Michigan Fiber Festival so crunch time should have been spent in my dye studio and at my drum carder but...I have the weekend for that. Right? Right!
During this last week, I warped my loom for my
NEWEST PROJECT - RAVELRY LINK
where I am taking my weaving journey to the next step. As always, when you are learning new skills...the journey isn't always a smooth one.
I consulted with a weaving friend to make sure I was interpreting the pattern right for this project and we both thought what I thought was right. Wrong! I warped the loom backwards and I am currently weaving the project with the bottom side up. Any photos I share are from me being under the loom. Gaaaaaaa! We thought that I should follow the arrows so I warped my loom from right to left instead of left to right and I am weaving from the bottom up. Well, it appears I should have warped from left to right and then bottom up. Yes, I could have torn it all apart and started over but...as you have read my blog, you know I'm too darn stubborn for that ;-)
It's all good. A great way to give incentive to weave so one can see their productivity. Bahahahaha That's my justification.
I have also been spinning. I have a few skeins I will share in a future post.
Photo from knitpurlgurl Etsy Shop
Knitting? I put my cabled socks on hold. They required too much concentration so I cast on the
GHOSTIE Socks
. So far I have tore the project back twice because the colors aren't lining up like they should and I'm getting flustered. I need the cuff to be a certain width for my ankles and my ghosts aren't lining up. My third attempt has tiny ghosties but they still don't look like this photo. (Promise to share the photo in my Stitches post) I'll figure it out but the frustration from knitting can drive me bonkers. Good thing I'm finding plenty of knitting memes to keep me motivated.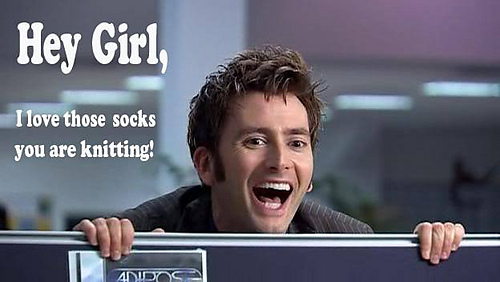 So...that's my fiber arts week. Share your adventures in Fiber Arts. I promise a review of Stitches Midwest next week PLUS I will be at the Michigan Fiber Festival so hopefully you will get a few fiber arts posts from me next week...on my Fiber Arts Vacation!
Fiber Arts Friday !
To participate:
Submit your blog article using your current blog address NOT your complete blog i.e. you would submit
http://wonderwhyalpacafarm.blogspot.com/2010/02/e-i-e-i-doh.html
http://wonderwhyalpacafarm.blogspot.com
Link back to Fiber Arts Friday from your post
so that your readers can come and see everyone else's projects! Text link to
WISDOM BEGINS IN WONDER!
Visit as many of the other participants as possible and leave comments! That's what helps us all

connect!
Check out these wonderful blogs