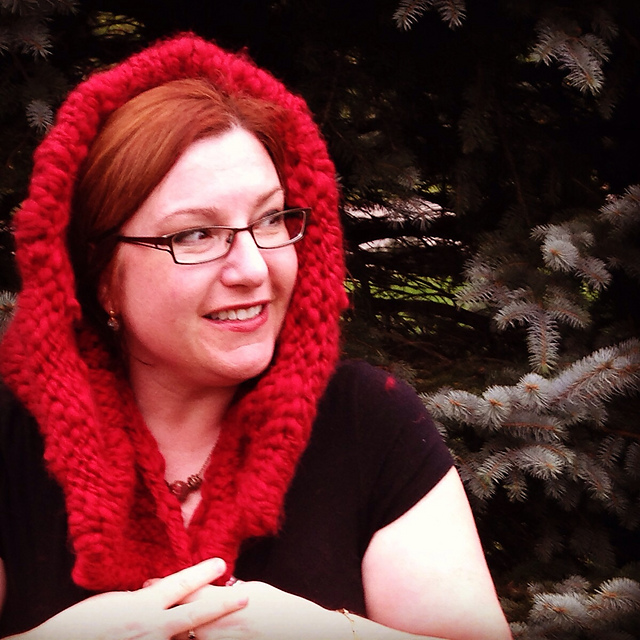 Welcome to the 37th Fiber Arts Friday of 2014. This year has flew by so fast that I missed Summer. The weather has been in the upper 50's/low 60's the last two days which means...time to get out the handknits. HOORAY!
I decided last Friday night to cast on the
Dragon Watcher's Hood
. I got a great deal on some beautiful bulky weight Red slub yarn from Rowan Biggy Prints. I had to dig out my size 15 needles because I hadn't touched them since I learned how to knit.
It was an easy knit although it's not laying as nice as the photos on the project page. I see that the yarn does not recommend soaking and I would think that soaking would give it a better feel. It's 100% wool and a bit scratchy. I wonder if I steamed it, if that would help. So...what is your suggestion?
I also spent last weekend dyeing up a storm. Almost 15 lbs of Alpaca, Mohair and Wool were dyed. This weekend I intend to chain myself to the drum carder to make some new batts.
On Ravelry, in the
Lord of the Rings Group
, I am part of a KAL...or at least my yarn is. Fellow Team Precious member, Amy Noelle Walker, wrote a gorgeous lace knit pattern called
Baggins or Took
featuring the
My Pedro yarn in my shop
. Check out the KAL and my yarn. I'm offering $3 off my yarn which happens to be the price of the pattern.
COUPON CODE: BILBOBAGGINS
photo by Amy Noelle Walker's pattern page on Ravelry
It's a beautiful pattern and, of course, the yarn is spectacular. Do you want to knit to your Tookish side or the Baggins side? You definitely should knit to your Alpaca side.
Now share your adventures in Fiber Arts!
Fiber Arts Friday !
To participate:
Submit your blog article using your current blog address NOT your complete blog i.e. you would submit
http://wonderwhyalpacafarm.blogspot.com/2010/02/e-i-e-i-doh.html
http://wonderwhyalpacafarm.blogspot.com
Link back to Fiber Arts Friday from your post
so that your readers can come and see everyone else's projects! Text link to
WISDOM BEGINS IN WONDER!
Visit as many of the other participants as possible and leave comments! That's what helps us all

connect!
Check out these wonderful blogs