It's Fiber Arts Friday! I'm still on a shawl knitting phase. I cast on a shawl last Saturday morning and it's almost done. Wowza! We are already well into March and Spring is around the corner. Really! It has to be here soon. Exciting news! We are supposed to have temps near freezing this weekend! Woot! I'm done with sub-zero weather.
Last Saturday I cast on the
Frisson
. This shawl is super fun and very sassy. The YO (Yarn Over) is addictive in this pattern. I truly believe that my hang up with shawl knitting was too many stitches on the needle. I have found an insane amount of side to side shawls on Ravelry that will keep me busy for a very long time. Hopefully I will have a completed shawl for you next week.
The yarn I'm using is the
My Pedro Yarn in Smaug Red
. I know I created this yarn but I can't get enough of it. It's my favorite fingering weight yarn.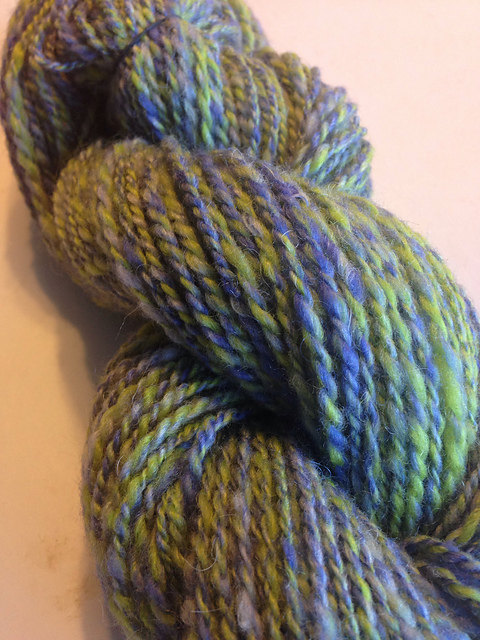 I also took some time to spin a skein of yarn. I've been reading through the last issue of PLY Magazine and wanted to work on my long draw and woolen yarn technique. My Alpaca isn't the greatest yarn to use for this. It wants to be worsted so...I dug into my stash and found this fun Corridale/Mohair blend from another Michigan farm. I had bought it last year at the Michigan Fiber Festival. It's not my most balanced yarn but when learning a new technique, it takes time and practice. I had a harder time letting go of my usual spinning habits. I am going to need a lot more practice. I'd like to produce a nice single that is balanced at a heavier weight and that isn't happening yet.
So, I have no clue what next week's project will be. I hope this shawl will be completed this weekend. I am loving it and will have a hard time giving it to it's intended recipient when it's done. Now, share your adventures in Fiber Arts!
As always, thank you for stopping by and linking in your blog.
Fiber Arts Friday !
To participate:
Submit your blog article using your current blog address NOT your complete blog i.e. you would submit
http://wonderwhyalpacafarm.blogspot.com/2010/02/e-i-e-i-doh.html
http://wonderwhyalpacafarm.blogspot.com
Link back to Fiber Arts Friday from your post
so that your readers can come and see everyone else's projects! Text link to
WISDOM BEGINS IN WONDER!
Visit as many of the other participants as possible and leave comments! That's what helps us all

connect!
Check out these wonderful blogs